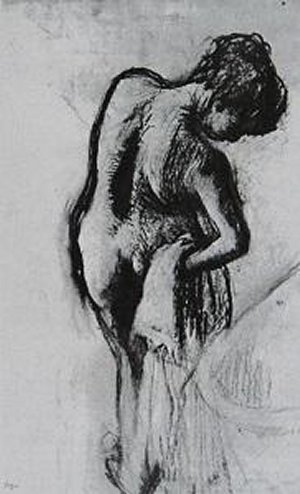 After the Bath
Circa 1900
Pastel, fusain et craie blanche sur papier-calque
67,6 x 42,1 cm - 26 5/8 x 16 5/8 in.
Cachet vente Degas en bas à gauche
Detroit, Detroit Institute of Arts, Etats-Unis - Inv. 37. 58
Dernière mise à jour : 2019-01-11 06:13:10
Référence : MS-1378
History
Atelier Degas - Vente Degas, 1918, II, n° 292 - Charles Durand-Ruel, Paris - Detroit Institute of Arts, 1937 (Don Charles Durand-Ruel).
Exhibitions
Greaver Harry, Kalamazoo Institute of Arts, (s. d.), Impressionists in Michigan : dans la liste des expositions du Kalamazoo Institute of Arts de mars 1968 à 2012, il ne figure aucune exposition spécifiquement consacrée à Degas. La plus approchante est French Impressionism in Michigan du 12 mai au 18 juin 1967, des dates qui ne correspondent d'ailleurs pas aux dates officielles d'ouverture du Kalamazoo Institute of Arts en 1968. 
Bibliography
Reff, Bulletin of the Detroit Institute of Arts 53, 1, 1974, n° 23, p. 42-43, repr. p. 25.