Japonismes. Impressionismes at the musée des impressionnismes at Giverny. A look at Degas.
In search of other forms of art, Western painters became passionate about Japanese art in the second half of the nineteenth century. They found new, original and unparalleled topics of inspiration.
"Suddenly, 1868, the horizon opens and the Empire du Soleil Levant admits guests and  visitors - painters - that rushed in. They could not stand any more the Antique", writes Erik Orsenna in his preface to the catalogue. The exhibition proposed by the musée des impressionnismes at Giverny celebrates the 150th anniversary of the Meiji era that "marked the definitive opening of Japan to the West," adds Marina Ferretti-Bocquillon, its scientific director.
Giverny could not dream of anything better than organizing and presenting this exhibition on the theme of the relationship of Impressionism with Japonism. The choice of the date is obviously symbolic. Japan's "revelation" will be remembered for its remarkable presence at the 1867 and 1878 Universal Exhibitions in Paris and London. Major events, not only cultural but also - it must be emphasized here - political and economic ones. We will also notice the publication of L'art japonais, the first book on the subject in french. We must mention the opening of a shop rue de Rivoli in Paris in 1862, called "La porte chinoise". Amongst its customers: Baudelaire, Whistler, Fantin-Latour, the Goncourt, all personalities of influence. Japan's fashion is opening up to literature, to other forms of art such as goldsmithery. So Japan then enters  not only culture but our homes and we remark  its explosion in the fascination for furniture under Napoleon III.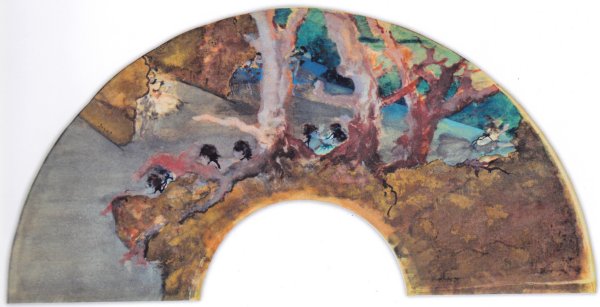 Painters looked for new sources of inspiration... and collection. Van Gogh collected no less than 400 Japanese paintings, Monet 250 prints. This new passion for an altogether new art - for the West - was to be translated by painters by the adoption of other subjects on other techniques: pastel, print on silk... They inscribed their subjects on new forms such as fans. Many painters indulge in this new fashion where they find another way to express themselves. Each in his own way: Rivière, Signac, Manet, Pissarro, Morisot, American painters such as Whistler and Chase and English Ensor. Many of them insert their subjects into fans, unaccustomed to this new layout.
Degas does not escape this fascination that he mainly translates by painting onfans. Gouaches and watercolors on silk, pastels, paintings with essence, often mixing techniques such as gouache and pastel, watercolor and gold and silver on silk. One may even wonder if some of his landscapes such as Plowed Fields are not inspired by this new movement. Just like Manet, Whistler, Cassatt - to name only them - Degas is also a master of printmaking. Woman with the Fan and Mary Cassatt at the Louvre (Bibliothèque nationale, Paris) are among the finest examples of Degas's passion for Japonism. A passion that expresses itself - can we make the connection ? - in his extraordinary talent for monotype and lithography.
Japanese art collector? Degas is far from Van Gogh and Monet but we find for example in his collection this Landscape of the Mount Fuji  by Watanabe Seiti he met, according to Edmond de Goncourt, at Philippe Burty's where there were still Manet and de Nittis.
Degas was not forgotten in the present exhibition. But you will find other unexpected wonders. Amongst the Japanese artists: Yoshitoshi, Hiroshige, Utamaro not to mention Hokusai, the most famous. A delight for Japanese works but also for their repercussions in the West on Gauguin, Sérusier, Maurice Denis, Caillebotte, Bonnard, Vuillard, Ranson and Vallotton.
Japonismes. Impressionnismes from March 30 to July 15, 2018 at the musée des impressionnismes at Giverny (website : http://www.mdig.fr/) and from August 26, 2018 to January 20, 2019 at Arp Museum Bahnhof Rolandseck Remagen (Germany).
Publication : 08-04-2018