The Masterpieces of Philadelphia Museum at Milano
Amongst others, Degas in hightly represented by the Dance Lesson painted around 1880, acquired in 1937.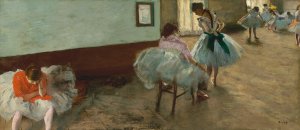 At  Milano, Palazzo Reale offers at present an overview of the collection of the museum of Philadelphia. Fifty works of around thirty artists represent the collection which begins in 1872 to end in 1961.

We owe to Mary Cassatt and to Durand-Ruel their roles in the development of impressionism on the American East Coast. Cassatt acquired works by Monet, Pissarro, Manet and Degas represented by major works in this collection. At present at works, the museum of Philadelphia thus has decided to travel part of its collection. Degas is shown by the Dance Lesson painted around 1880, flagship of the collection as well as the Cézanne, Renoir, Morisot but also Picasso and Braque as well as Dali, Tanguy and Miro.
Un storia di grande collezionismo americano. Impressionismo e Avanguardie. Capolavori dal Philadelphia Museum
Milan, Palazzo Reale, from March 8th till September 2nd, 2018.
Publication : 07-08-2018